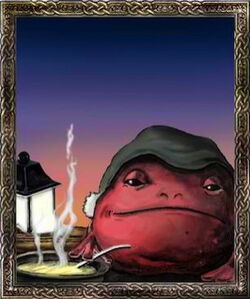 Kettlemouth is a Nile Croaker. He is Lucia Cavallo's charge.
Appearance
Edit
Kettlemouth looks like a shiny red bullfrog larger than a toaster with bulbous eyes.
Personality
Edit
Background
Edit
Abilities
Edit
As a Nile Croaker, Kettlemouth has the ability to sing. His songs however, can affect nearby listeners in different ways such as making them do things they wouldn't normally do.
Ad blocker interference detected!
Wikia is a free-to-use site that makes money from advertising. We have a modified experience for viewers using ad blockers

Wikia is not accessible if you've made further modifications. Remove the custom ad blocker rule(s) and the page will load as expected.