Mina
Race
Human
Gender
Female
Age
7
Status
Alive
Hair Color
Brown
Affiliation
Rowan Academy
Relatives
David Menlo is cousin, Elias Bram is grandfather
First Appearance
The Fiend and the Forge
Mina is a extremely potent Mystic found in Blys by Max McDaniels. Mina's charge is Ember, a dragon.
Appearance
Edit
She has short brown hair and a magechain filled with different tokens to represent minor feats in Firecraft, Herb Lore and Illusion.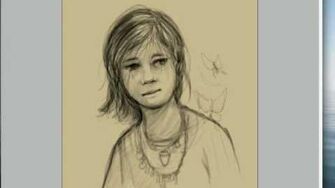 Personality
Edit
Playful and deep in sentiments speaking nonsense words while trying to earn tokens.
Background
Edit
She lived with other orphans in a farm located in Blys. Her grandfather is Elias Bram. Her cousin is David Menlo. Max rescued her from a monster in The Fiend and the Forge, chapter-Horror In The Well.
Abilities
Edit
Depicted mainly in The Maelstrom, Mina's abilities cover a range of areas. She is capable of astounding feats, like teleportation. She single handedly cast down Prusias into the ocean. It remains to be seen what other powers she will manifest in the fifth and final book.
(To Max) "Wild Max must be Rowan's sun and wise David her magical moon, and Mina must be a bright little star that shines far above all."