The Hound of Rowan
Comments

26
143pages on
this wiki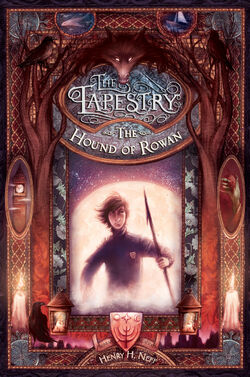 The Hound of Rowan
is the first book in
The Tapestry series
, written and illustrated by Henry H. Neff. It was published in 2008 by Random House and it was nominated the 2009-10 Texas Bluebonnet Award.
Book Description
Edit
Max McDaniels lives a quiet life in the suburbs of Chicago, until the day he stumbles apon a mysterious Celtic tapestry. Many strange people are interested in Max and his tapestry. His discovery leads him to Rowan Academy, a secret school where great things await him.
But dark things are waiting, too. When Max learns that priceless artworks and gifted children are disappearing, he finds himself in the crossfire of an ancient struggle between good and evil. To survive, he'll have to rely on a network of agents and mystics, the genius of his roomate, and the frightening power awakening within him.
The Boy, The Train and the Tapestry
Three Soft Knocks
A Time to Choose
The Flight to Rowan
Evils Old and New
The Last Lymrill
A Full House
The New and Weird
A Golden Apple in the Orchard
The Course
All Hallow's Eve
Secret Prisons
Fibs and a Fiddle
Meeting the Vyes
Unexpected Guests
Rowan's New Resident
The Hound of Ulster
Smugglers on the North Atlantic
The Crypt of Marley Augur
Father and Son