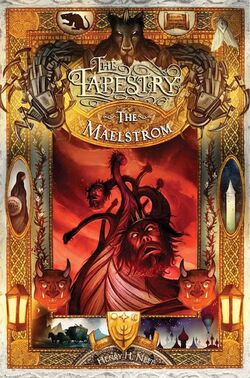 The Maelstrom
is the fourth book in
The
Tapestry
series, written and illustrated by Henry H. Neff. This book was released on October 23, 2012.
Book Description
Edit
The world is at the brink of ruin . . . or is it salvation? Astaroth has been weakened, and the demon Prusias is taking full advantage of the situation to create an empire of his own. His formidable armies are on the move, and Rowan is in their sights. Rowan must rely on Max McDaniels and David Menlo and hope that their combined powers can stop Prusias's war machine before it's too late.
But even as perils loom, danger stalks their every move. Someone has marked Max for death and no one is above suspicion. Should the assassins succeed, Rowan's fate may depend on little Mina whose abilities are prodigious but largely untested. And where is Astaroth? Has he fled this world or is he biding his time, awaiting his next opportunity?
In the Tapestry's fourth book, author-illustrator Henry H. Neff boldly raises the stakes in an epic tale of mankind's struggle to survive in a world now populated by demons and demigods and everything in between!
The Xebec
Archmage
Crofter's Hill
Dregs and Driftwood
Laqueus Diaboli
To the Ravenswood Spur
Piter's Folly
Madam Petra and the Pinlegs
Hunted
Knife, Spear, and Storm
Reckonings
A Watcher in the Woods
The Aurora and the Polestar
A Shadow from the Sidh
The Wanderer
In the Dragon's Coil
Trench Nineteen
When Waters Run Red
Tur an Ghrian
Under a Mackerel Sky
Ad blocker interference detected!
Wikia is a free-to-use site that makes money from advertising. We have a modified experience for viewers using ad blockers

Wikia is not accessible if you've made further modifications. Remove the custom ad blocker rule(s) and the page will load as expected.